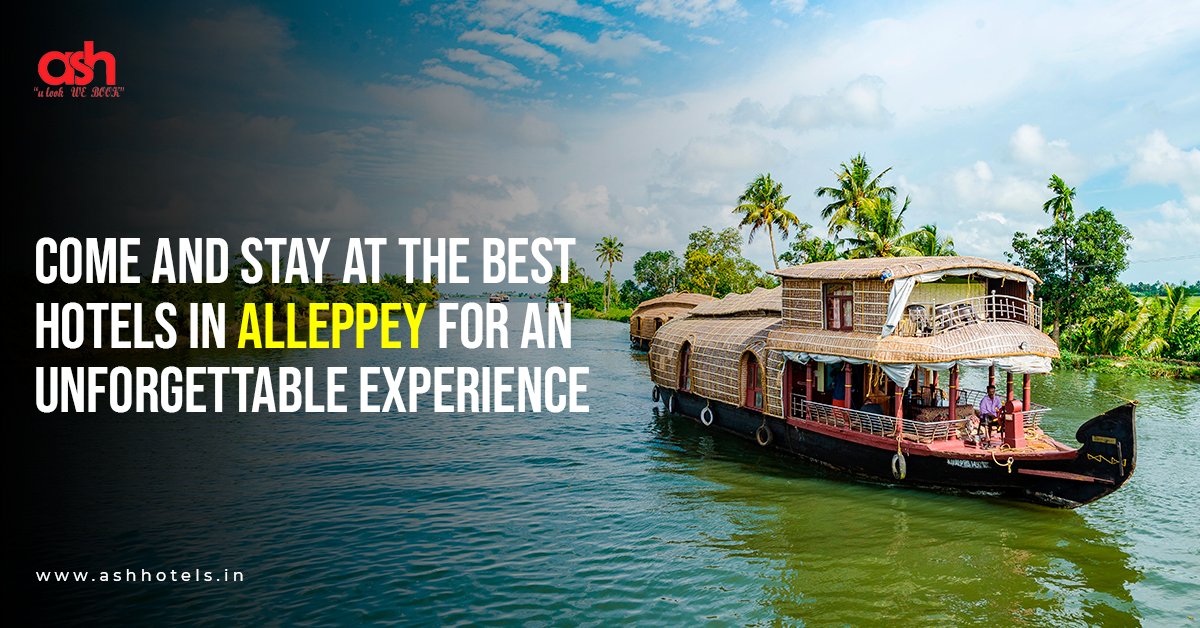 Alleppey or Alappuzha, is one of the charming little towns in Kerala, the southernmost state in India. Located on a narrow spit of land, between the tranquil Arabian Sea and the Vembanad Lake, it is one of the most beautiful natural paradises in India. With its picture-perfect natural beauty, it is one of the best popular tourist destinations for all types of travellers. If you are a nature lover or an explorer, then Alleppey is the perfect getaway for you. With its serene natural beauty, a trip to Alleppey will leave you in awe, almost at every moment. So what are you waiting for, come and stay at the best hotels in Alleppey to get a memorable experience of a lifetime.
Come and soak in the pristine beauty of Alleppey
Being one of the most popular tourist destinations in India, Alleppey is famous for its backwaters. Backwaters are a network of beautiful lagoons and serene canals interconnected with the Arabian Sea. A boat ride through the backwaters of Alleppey with lush green paddy fields, coconut trees, beautiful villages and pristine lagoons on each side will take your breath away. The natural beauty of Alleppey's backwater is adorned by every tourist, making it one of the favourite tourist destinations of India.
Whether you are an adventure seeker, nature lover, leisure seeker or honeymooner, backwaters are suited for every type of tourist. One of the best ways to enjoy the beauty of the backwaters in Alleppey is by sailing in beautiful houseboats in Kuttanad. Kuttanad is a small scenic village in Alleppey, with interconnected channels of canals and lagoons. Sailing through the backwaters of Kuttanad with lush green paddy fields and coconut trees on each side will make your trip an unforgettable memory.
Along with backwaters, Alleppey is equally famous for its beautiful long sea beaches. Located on the Malabar coast, the sea beaches of Alleppey are the perfect natural paradise for sea lovers. Glittering sand, crystal clear sea water, gentle waves, and enchanting sunrise and sunset will make your visit to Alleppey worthwhile. It is one of the perfect places in India when you are looking to get away from the hustle and bustle of city life. Plus, if you are confused about where to stay in Alleppey, Ash Hotels can help you out.
Alappuzha Beach in Alleppey is famous for its watersports, sand art and Alappuzha festivals. Known for its tranquillity and calm atmosphere, it is one of the perfect spots for a relaxing vacation. Marari Beach, on the other hand, is famous for its snake boat races. Snake boat races are one of the highlights of Alleppey. As the name suggests, it is a boat race, where the shape of the boat is like a snake. Each boat carries about 20 to 50 rowers who sing traditional boat songs as they paddle through the backwaters. The spectacle of snake boats racing each other is one of the most exciting things to watch. So don't forget to keep this on your bucket list, when you are visiting Alleppey. If you like you can choose your accommodation near the beaches from the best hotels in Alleppey to enjoy this natural paradise.
Apart from being one of the natural paradises of India, Alleppey is also famous for its mouthwatering seafood. If you are a seafood lover then Alleppey can satisfy your taste buds. The famous seafood dish of Alleppey is the Kerala fish curry. Once you have tasted this dish, it will linger in your mouth forever. Other delicacies of Alleppey include appam,puttu and kadala curry. These dishes are the most popular dishes among tourists and travellers in Alleppey.
Now a trip is never complete without shopping, right? And Alleppey is no such exception. Alleppey is famous for its coir industry. Coir products such as mattresses, carpets, and brushes are made from coconut husk. These products are eco-friendly and durable. If you like you can buy some coir products for yourself or for your loved one. Other famous products of Alleppey are spices, organic coconut oil, hammocks and pickles and so on.
Choose the best hotels in Alleppey for your stay
Alleppey is one of the favourite tourist destinations in India. So the footfalls of tourists in Alleppy remain high. Thus, if you are planning your trip to Alleppey, you should book your accommodation in advance. Otherwise, there is a high chance that you might not get your preferred accommodations at the last moment. Now the most important question that comes up in any tourist's mind is where to stay in Alleppey. Well, the answer depends on you. It is best to choose your accommodation near the spots you have planned to visit. It will save you a lot of time travelling long distances from your hotel to the vacation spots.
When it comes to accommodation, Alleppey offers a wide range of options to tourists, ranging from budget hotels to luxurious resorts. The houseboats are one of the main highlights of Alleppey. The well-ventilated and spacious houseboats are floating hotels. If you like you can stay at a houseboat and enjoy the scenic beauty of the backwaters while enjoying the amenities of a hotel room. Other than houseboats, Alleppey offers various kinds of ayurvedic resorts. They offer a wide range of treatments to improve your overall well-being. It is perfect if you are looking for a relaxing gateway. Apart from these, Alleppey also offers various other kinds of accommodation to cater to all kinds of tourists.
Ash Hotels- The best platform to find the best hotels in Alleppey
Looking for the perfect accommodation in Alleppey can be a time-consuming task. With so many hotels in Alleppey, finding the one that fits your budget and preference is challenging. So while planning your trip to Alleppey, look for Ash Hotels. Ash Hotels is one the best online platforms to find the best accommodations in all over India. Rather than scrolling through different websites, and searching for hotels in Alleppey, simply come to Ash Hotels. On a single platform, you will get all different types of hotels in Alleppey. In addition, you will also get reviews of the hotels. It will help you to get insights into the facilities and the quality of services of a hotel. Thus you can make an informed decision about your accommodation to enjoy a memorable trip.
Final Takeaway
Alleppey is one of the most beautiful cities in India that can provide a memorable experience to all kinds of tourists. From beautiful backwaters to tranquil sea beaches, Alleppy has everything. So if you are planning a trip to Kerala, make sure to add this natural paradise to your itinerary list. What are you waiting for? Come and stay at the best hotels in Alleppey for a memorable experience.
Frequently asked questions
1. How many days in Alleppey are enough?
If you want to visit all the major spots of Alleppey, it is recommended to spend at least two days. A single night stay at a houseboat for the backwaters tour and another one-day tour of Alleppey town and the Alappuzha and Marari beaches.
2. How many people can stay in a houseboat?
Houseboats are very popular in Alleppey. At most, a houseboat can accommodate 8 to 9 people.
3. What is Alleppey famous for?
Alleppey is a small quaint town in Kerala famous for its pristine backwaters, tranquil sea beaches, snake boat races, mouth-watering local cuisine, beautiful temples and lighthouse.
4. What is the local language in Alleppey?
Malayalam is the main official language of Alleppey. However, most people in Alleppey understand English.
5. In which month does the snake boat race take place in Alleppey?
The famous snake boat race in Alleppey takes place on the second Saturday of August.
6. Which is the best time to visit Alleppey?
The ideal time to visit Alleppey is between the months of November to February. During these months, the weather remains cool and it is perfect to go on a boat ride on the backwaters or for any outdoor activities.
7. Is Alleppey well connected?
Alleppey is a well-connected city. The Cochin airport is 75 km and the Alleppey railway station is 4km away from the city centre. Additionally, the NH66 connects Alleppey to major southern cities of India.
8. Is Alleppey safe for tourists?
Alleppey is very safe for tourists. However, as a tourist, you should be mindful of your belongings and avoid going to unknown places after dark.
9. What is the best way to explore the backwaters of Alleppey?
The best way to explore the backwaters of Alleppey is by renting a houseboat or a motorboat.
Comments
Section